Apostille for Company Documents
Providing apostilles for all UK issued company documents. We legalise documents with the apostille in just 2-3 days. Solicitor certification is also available for most company documents to save you time and money.
Why is the Apostille Requested?
With years of experience legalising documents for use outside of the UK we are specialists in providing the apostille for company documents. Businesses often require legalisation services in the following situations-
Forming a company in another country
Opening bank accounts in another country
Applying for credit cards in another country
Providing product details
Entering into contracts
Providing distribution agreements
Issuing a Power of Attorney to a legal firm in another country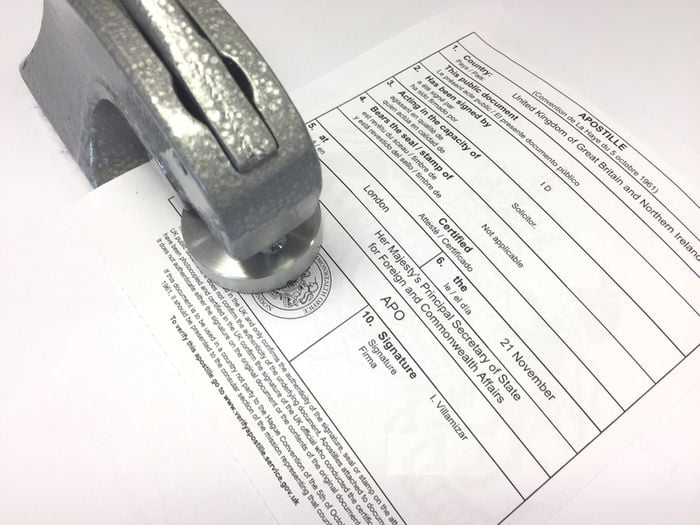 Standard Apostille Service
We arrange apostille certificates on thousands of company documents every year. We are registered with the Foreign and Commonwealth Office and provide a quick legalisation service.
The following lists provide a sample of common documents we process. However, we can process all genuine UK company documents and not just those listed below.
Certificate of Incorporation
Certificate of Name Change
Memorandum and Articles of Association
Incorporation Documents
Certificate of Good Standing
LLP or Partnership Documents
Partnership Agreements
Company Registers
Appointment reports
Companies House Documents and Forms
Company Resolutions and Minutes
Annual Returns
VAT Certificates
DTI documents
Certificate of Free Sale
Accounts or Tax Returns
Contracts and Bills Of Sale
Licences and Agreements
Certificate of Residency
Purchase or Sale documents
Distributor Agreements
Contracts of Employment
Tenders
Visit Apostille Website
Why Use Our Service
Our experience has helped organisations present company documents all over the world. We often combine documents into packages, provide reduced prices where possible and assist with embassy legalisation subject to requirements.
Trusted by some of the UK's largest companies to legalise their documents. Let us look after your valuable documents.
Visit Apostille Website